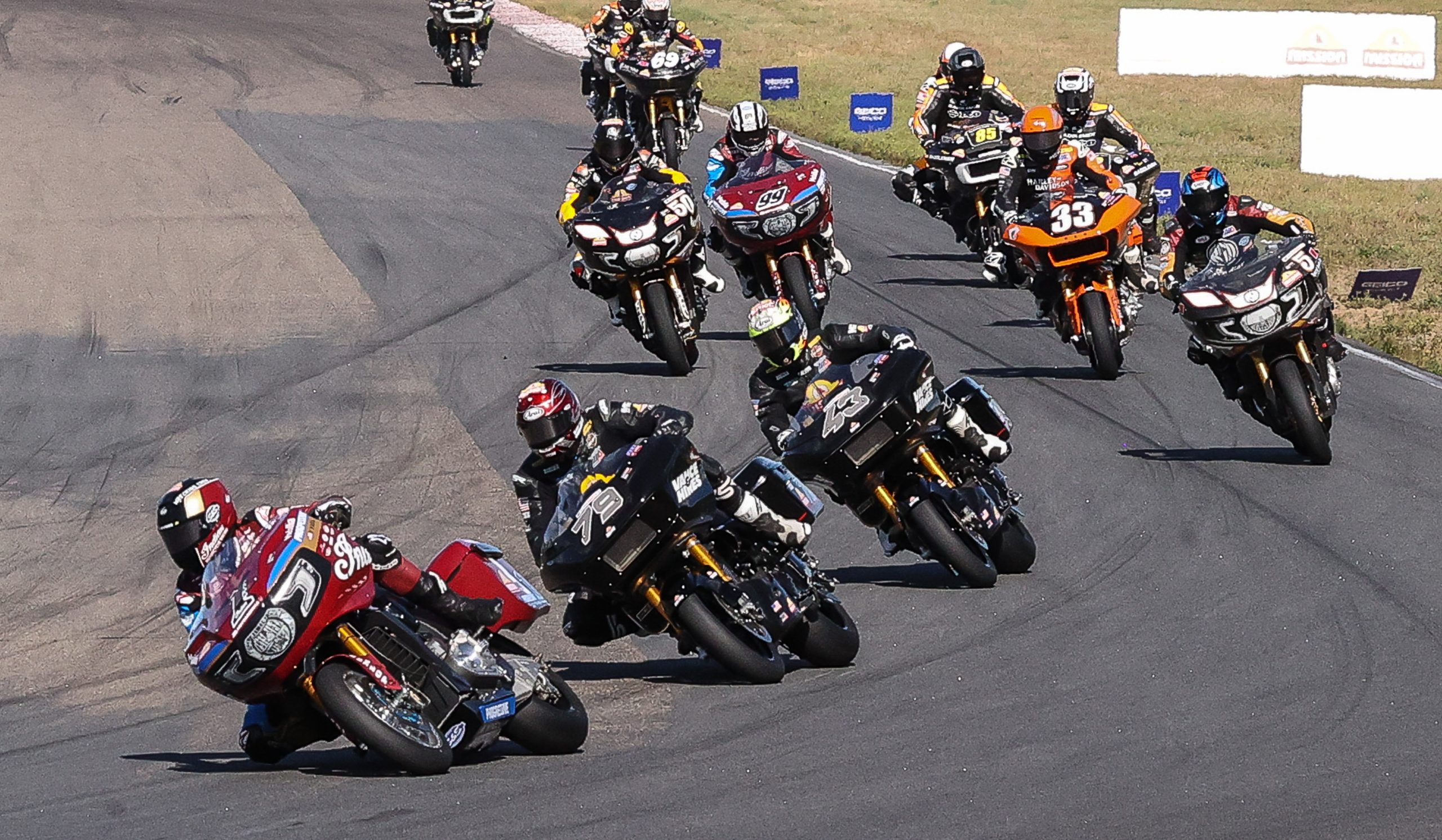 Three points. Three riders. Three measly points is all that separates the top three racers in the heated battle for the 2023 Mission King Of The Baggers Championship as the series heads to the Circuit of The Americas in Austin, Texas, for the penultimate round, September 8-10.
The man with the three-point lead as the series prepares for its eighth round is Vance & Hines/Mission/Harley-Davidson's Hayden Gillim. The two men giving chase are H-D Screamin' Eagle's Kyle Wyman and Gillim's teammate James Rispoli. All three have had crazily consistent seasons, and Wyman is the only one in the top three with a DNF on his scorecard.
Gillim earned his 175-point total with two wins, two seconds, three thirds, two fourths and a fifth with his two wins coming in the second half of the championship at WeatherTech Raceway Laguna Seca and Brainerd International Raceway.
Wyman, the 2021 Mission King Of The Baggers Champion, has the most wins of the three, but he also has a DNF. Wyman arrived at his 172 points via five wins and only one other podium finish, a third in race one at Road America. Wyman is coming off an off-for-Wyman weekend at Brainerd where he finished fourth and fifth in the two races. He also has a ninth-place finish on his points tally. Wyman knows how to win as he is the all-time wins leader in the class with 10 victories.
Wyman is tied for second with the personable James Rispoli with the Florida resident only winning one race, but with six other podium finishes. Like Wyman, Rispoli has 172 points.
With the top three all riding Harley-Davidson Road Glides, the first of the Indian Challengers is the one ridden by Bobby Fong and not defending series champion Tyler O'Hara. Fong is 45 points behind Gillim but has proven capable of winning on any given day as evidenced by his two wins thus far in 2023. (Road America and Brainerd). Fong has three other podium finishes on the year.
O'Hara is next and a disappointed fifth in the championship and is surprisingly winless on the season so far. O'Hara does have three second-place finishes and two third places, but he is seven points behind Fong and 52 behind his rival Kyle Wyman.
Mission King Of The Baggers rookie Jake Lewis sits sixth in the championship and has scored in every round but has yet to reach the podium.
The second of the two factory Indians and Harley-Davidsons have also had disappointing seasons with Jeremy McWilliams ninth and Travis Wyman 10th, respectively.
Steel Commander Stock 1000 – Beaubier vs. Gillim vs. De Keyrel
Orange Cat Racing's Ezra Beaubier leads the Steel Commander Stock 1000 Championship over Disrupt Racing's Hayden Gillim with just the two races at COTA remaining in the five-round, 10-race series. The margin? Eight points.
But that's not all. Beaubier's teammate Kaleb De Keyrel is just four more points behind, and Travis Wyman Racing's Travis Wyman is on the outside looking in, 15 points behind De Keyrel and 27 behind Beaubier.
With his two wins at Brainerd International Raceway at the end of July, Gillim took over as the Stock 1000 racer with the most victories on the year – four. Beaubier, however, has won three, including the first two races of the season at Road Atlanta that put him atop the point standings where he has been ever since.
Beaubier's 145 points come via three wins, a second, a third, a fourth, a fifth and a sixth. Gillim, meanwhile, has been fighting back from a miserable DNF/sixth-placed weekend to open his season in Atlanta. His four victories since then are what has him back in the championship chase.
De Keyrel is winless thus far but has four second-place finishes and five total podiums. Wyman is the third rider in the title chase to have tasted victory, but he has a non-finish that blemishes his scorecard.
Supersport – Forés On The Verge
Warhorse HSBK Racing Ducati NYC's Xavi Forés is on the verge of capturing the 2023 MotoAmerica Supersport Championship with the Spaniard holding down a whopping 86-point lead heading into the two races at COTA and the final two at New Jersey Motorsports Park.
Forés won the first eight races of the season to build a lead that has his competition scratching their collective heads, but the series rookie has also gone the last four races without a victory.
Vision Wheel M4 ECSTAR Suzuki's Tyler Scott sits second in the title chase with two wins and seven additional podium finishes and that has him 13 points clear of third-placed Stefano Mesa. Mesa, however, won't be racing in the class for the two remaining rounds as he's been drafted up by his Tytlers Cycle Racing team to fill in for the injured Cameron Beaubier in the Medallia Superbike Championship. Mesa will make his debut in the class this weekend at COTA.
That means that Squid Hunter Racing's Josh Hayes will slot himself into the top three as he trails Mesa by just four points and is 67 points clear of Scott's teammate Teagg Hobbs.
With Mesa heading to the Medallia Superbike for the final two rounds, the Tytlers Cycle Racing team is bringing in Kayla Yaakov to ride Mesa's Kawasaki ZX-6RR at COTA and NJMP. Yaakov has been released from her contract with The WagBar MP13 Racing where she has been competing in the REV'IT! Twins Cup series.
Disrupt Racing's Jake Lewis rounds out the top five in the championship despite not being drafted into the team until the third round of the series.
Mission Super Hooligan National Championship – Tied At The Top
A three-point gap between first and third in the Mission King Of The Baggers Championship, an eight-point margin between first and second in the Steel Commander Stock 1000 Championship and (… wait for it) a tie at the top in the battle for supremacy in the Mission Super Hooligan National Championship.
Indian Motorcycle/Progressive/Mission Foods teammates Tyler O'Hara and Jeremy McWilliams arrive in the Lone Star State tied in the title chase with 106 points apiece.
O'Hara has three victories to McWilliams two wins and both riders have a non-points-paying race from their disqualification at Ridge Motorsports Park. O'Hara has one other podium to go with his three wins while McWilliams has three additional podiums.
This one truly does come down to a winner-take-all battle and calculators won't be needed.
DiBrino Racing's Andy DiBrino has also had a solid season on his KTM with his lone victory at Ridge Motorsports Park going with three additional podium finishes.
DiBrino is 15 points ahead of Team Saddlemen's Cory West and his Harley-Davidson Pan America and another 14 ahead of Grey Area Racing's Mark Price.